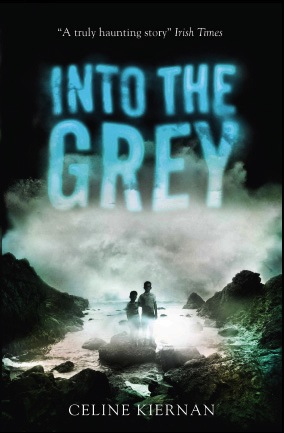 Waaay back in 2011, I reviewed Celine Kiernan's
Taken Away
and gave it nine caterpillars for creepiness and heartstring-twanging. It's being released in the UK as
Into the Grey
, and I'm part of the blog tour because it means I get to re-post this review AND offer you a copy. Comment below with 'me wanty' or whatever, and I'll pick the winner on Friday. Contest open to anyone (except my sister, who can just borrow my copy if she wants).
[Slightly dusty 2-year-old review follows.]
VERY LOUD DISCLAIMER: Celine and I are bffs-on-the-internet and she sent this to me in the mail and I think she is super-great.
That being said
, I have her express assurance that she never reads reviews of her work, which probably keeps her sane and which means I can say WHATEVER THE HELL I WANT.
Ok and apparently Things are Mine For the Summoning these days, because I have
been
asking
the Universe for
more this
(where 'this' = smashing opening lines, and 'Call me Ishmael' doesn't count because
THAT IS ACTUALLY A SHITTY OPENING LINE
, it just happens to be the opening line of a Very Famous Book). 'We were watching telly the night Nan burnt the house down' is very, you know,
away we go
.
So Nan burns down the house and Mam and Dad and baby Dee and Dom and Pat (WHO ARE TWINS) all move to a temporary house in the country, and that is where
it all begins *
high-pitched violins* And OBVIOUSLY twins are the creepiest thing going.
Look at that cover
. There are more than enough faces in the world, why can you not get your own? But Dom and Pat are like sweet, rowly puppies (with twinface). Y'anyways.
Dom and Pat start having fuhreaky dreams, and then a tiny child-boy with white lips and black teeth who glares at you malevolently starts having nighttime conversations with Dom about the 'bad man' and Pat is like, This is horrifying, and you are like, TOO RIGHT, and this is the bit that I read during the daytime and I
still
made Joel come sit in the room with me.
And more spooky doings are to come, but they are chased with difficult deeds and tragic realizations and heroic undertakings. So it's Eerie with an aftertaste of Desperately Sad, which I quite like. Make me weep, damn you! But be subtle about it. None of this wantonly killing off the dog business (unless you are Patrick Ness, in which case, kill away!).
What were we? Right. Thar be sadness here, but no dogs are harmed in the making of this novel.
And this
exactly
is what I want to put my eyes on right now. I've been feeling at loose ends about books lately because I want sharp and clever and unusual writing that knows when to reign itself in and when to EXULT IN A WELL-PLACED ADJECTIVE, but I also want
punches
and
plot
. I want Nan to burn down the house, is what I'm saying, but I also want the room to have 'that aquarium feel to it that things get when you're very tired.' I AM SO GREEDY with my wants!
Anywert. This was all the things I wanted AND an excellent R.I.P. read. It's called
Into the Grey
on this side of the water and is sort of hard to find? But if you do, THERE WILL BE GHOSTIES.
Nine caterpillars.
[Ancient review over!]
Redact that last bit about it being hard to find, because I HAVE ONE FOR YOU. I also have for you a little bit from Celine about one of the songs from the novel.
The Saucy Little Bird on Nelly's Hat: Vaudeville (Chapter: The Truth)
One of my grandad's favourite ditties, in my childhood I heard it sung many a time. Like all vaudeville songs its lyrics change from singer to singer, but I chose to reproduce it as my Grandad—Joe (Soap) Clarke—used to sing it. This song is also mentioned later in the book, but to prevent spoilers, I won't reproduce that section here. Into the Grey is a lot to do with converging histories and how one generation's unresolved problems can often linger and trouble the next. Music is another thing that passes from generation to generation. Here it builds a bridge between two very different people which may be the first step to saving a soul.
Dom's eyes sparkled with amusement, and he began to hum softly under his breath. I didn't recognize the tune, but it was pure vaudeville, a real Nan special. James Hueston smiled
"Oh aye!" he said happily. "I remember that!" He began singing in a quiet baritone: "I'll be your little
honey
, I will promise that, said Nellie as she rolled her dreamy
eyes
." He
grinned and began nodding his head in time with the song. Dom joined in the words, their two voices blending sweetly as if they were used to singing together. "
It's a
sin
to say so,
Mommy
, said the
bird
on Nellie's hat. Last night you said the same to Johnny
Wise
."
The two of them laughed and Dom sat back in his chair, the picture of relaxed delight.
Me again! (Meaning Raych.) Comment below if you want these creepies.