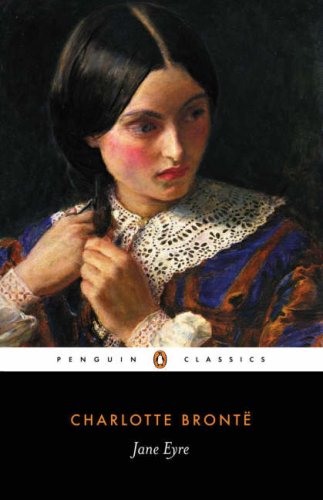 It's the buttoned-up English gal vs the sensual savage! Who will win the ultimate prize: one rough-physiognomied husband?
.
We all know Bertha Mason as the madwoman in Rochester's attic, but in
Wide Sargasso Sea
Jean Rhys gives her a voice and a childhood. In
Jamaica
. Jane's frigid English upbringing can suck on that.
.
Except that Bertha Mason (nee and hereafter Antoinette Cosway)'s childhood is not only rotten (like Jane's), it is
tumultuous
. Her father is dead and her mother rejects her in favor of her dumb idiot (in the literal, not the childishly pejorative, sense) brother and also it is just after Emancipation so the former slaves are all ROWR! *house-burning*
.
And then she and her thirty thousand pounds are married off to a young Rochester, and we all know how that goes. (Hint: sooooer badly.)
.
And the ultimate disparity between our two lasses is one of temperature. Jane is cool and reserved, even when detailing the death of Helen Burns (oh
Helen
, I never don't cry when you die), even when TEARING her heart out and fleeing Thornfield. Antoinette is all FEELINGS and sensual associations and enormous, venomous flowers. And it totally dooms her in the end.
.
Because while Jane can susbsist on tea and toast (emotionally speaking) until the time is ripe for a proper, monogamous marriage, Antoinette wants it
all
and
now.
While Jane's endless parade of rejections forces her inward onto her
steely resolve
, Antoinette's starves her so badly that by the time young Rochester rolls around she can't (or won't) tantalize him with her reserve. Loving not wisely, but to well and all that.
.
I will still and always love
Jane Eyre
the best, not only (though partially) because there is Justice For All. Mr Brocklehurst gets his come-uppance after the cholera outbreak (typhus? One of those Oregon Trail diseases), haughty Blanche is shot down for her gold-diggery ways, Jane makes all the rightest, hardest decisions and gets all the marbles. Victorian novels! You give me hope for the world.
.
If anything,
Wide Sargasso Sea
exists to rebut this idea, because injustice rears at every turn. It's not fair that the child of former slave owners should suffer for the sins of her fathers. It's not fair that Tia should take Antoinette's pennies after betting her she couldn't do an underwater somersault,
which she could.
The land doesn't love you, there's no one to protect you, your husband keeps on eyeing the help.
.
Give me my happily ever after.
Jane Eyre
wins this round. If you are playing along at home and/or have read either of these, feel free to dump your reviews in Ye Olde Linkye.
.
Up next on the
Everything Old is New Again
docket:
The Crimson Petal and the White; Rebecca
. I'm not sure if you've eyeballed these books but guys? They are
looong
.