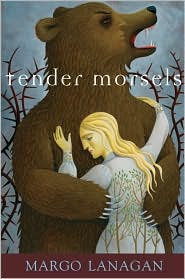 Ok, so remember when we were all reading
Tender Morsels
some weeks back, and the general consensus was This is ballsy, and hey, how about that cover? *uncomfortable shifty-eyes*
.
So I internetstalked caught up with Margo to ask her a few things about ballsyness and her cover and maybe bears. I did not expect to be so amused.
.
Heyyyyyy Margo.
.
So...you write books, hey? Did you always want to write books? What did 8-year-old you want to do with her life?
.
She didn't have a clue. She certainly didn't think that she'd write books. Books just existed, like buildings, or weather. Nobody put them there. I didn't realise I had permission to make them. And she faffed around for a good nearly-three-decades before she decided that books and other words-work were what she would do.
.
When they make Morsels of Tenderness: The Margo Lanagan Story Wherein She Faffs Around for Nearly-Three-Decades, who will play you?
.
Isabelle Adjani—yeah, right. Maybe someone we don't know about yet. I tell you, though, if they put Keira Knightley in the role, I will shoot myself.
.
I have your tender morsels just here, baby.
Kiera and I need to have a good, sit-down conversation about eating cheeseburgers. I'm sure I could teach her a thing or two.

So, you writ a fairy tale. Me, I have a drooly fondness for fairy tales because they're so different from our modern children's stories (especially the rampant WTF-factor). Excluding Snow-White, Rose-Red, which is your favorite fairy tale?
.
I think, The Red Shoes, because it's so horrrrrrrible, the entrapment, the mechanical dancing, the chopped off feet dancing away. Deeply disturbing in so many ways.
.
Severed, moralizing feet! What's not to love?
.
You have also written some short story collections. Do they also contain hot bear sex?
.
No, but there is a monkey rape scene, and some naked mole rat intercourse in which the male, um, comes off second-best. There's also an elephant story, but no elephants have sex in it, although they get quite hot just from walking so much.
.
Those sound...hrummm...frisky.

.
Because I cannot stop myself, I'm going to ask the question we've all been wondering: Is this a children's book? Was it ever intended to be?
.
Not unless you have a very robust, worldly and literarily inclined child, and by 'child' I mean someone under 15, about. Who knows what a child is? I know plenty of children aged over 50. Neither is it a book for the squeamish, 'everyone' or 'the faint of heart', I've been told. It's a bit hard to tell from the inside; it was the book that needed to write itself at the time, and I'm not quite sure of the rules that make it the book an unspecified reader needs to read next. That's kind of up to the reader.
.
However, to keep things simple. No, the lowest-aged reader this book aims at is 'young adult' - so, let's say, teenagers. Let's say, older teenagers. Let's say, older teenagers who like this sort of thing. Let's say, it should not be forced on anyone.
.
Do you feel that TM has been woefully misunderstood? Could you donate to me your favorite blistering review?
.
The new article on the Daily Mail Online, over
here
is pretty good, though it's not exactly a review, more a rant. It blisters, though. I've never had anyone criticise the title before, but Danuta Kean says it 'sounds more like a paedophile website than serious literature', just for starters. (And the title is the only direct quotation from the source fairy tale, too - those naughty old Grimms.)
.
This fuss in the UK, though, is far outweighed by fantastic reviews elsewhere, and a calm reception in the US (where the book has won a Printz Honor) and here in Australia (where it has won a Ditmar for Best Novel).

.
The UK cover is a lot more...how you say...lurid. No one is likely to gift that to
their babbies, grand or otherwise. How much say do you have in the covers?
.

Not a whole lot. I got to suggest changes to a rough of that cover. She used not to have the jewel in her headband, and she had a lot more writing on her, on her skin. The jewel is a hint that not all is dark and victim-y in this book, however fraught and damaged the girl looks. There are beautiful things in here too, it says.
.
Mostly I get that kind of a say, suggesting changes to an idea that's already been roughed out. I guess if a cover rough really stuck in my craw, I might be able to veto it, if I made enough noise. I haven't had to test that yet. :)
.
Do you kind of feel like those who grab TM on a 'fast run through a bookshop to buy nieces and daughters a present' (to quote D. Kean herself) because all they saw was a cuddly bear get a bit of their own come-uppance when the opening scene is a roll in the hay?
.
Absolutely. They're really asking for trouble, if that's the way they buy books. But of course, there's nothing stopping the aunties hanging onto the book and reading it themselves. Children should not read such filth, but there's no reason why grown-ups shouldn't.
.
Did you purposely toss 'slut' into the opening line so that even eight seconds of browsing would say 'Hey you, do not gift me to your wee grandbabby. But you could read me' *leers suggestively*[this is the book leering, not me]?
.
Honest, Raych, no tossing went on. 'Slut' was very carefully placed. It doesn't jump at you from page whatever, like the 'slut' in Roald Dahl's version of Cinderella. You're told right up front what kind of book this is - the kind that doesn't shrink from the word 'slut'. Indeed, wee grandbabbies should be only allowed to chew on this book, and perhaps scribble on it with crayons, not have it read to them, or given in their Christmas stockings (unless they are robust, worldly and literarily inclined, as specified above).
.
The book used to begin with what is now the second chapter (the first miscarriage scene). But I needed to put something in upfront that would tell readers that it was okay, there would be (a) some pleasant, enjoyable sex (not just exploitative and damaging sex) and (b) some humour, further on down the line, so that they would stay with me through the first several grim chapters. This has partially worked. There are plenty of people who cannot make it through all the assaults. That's fine, too. Each to his/her own. If I were trying to please everybody, clearly, I would not have written the book I have.
.
Don't you mean Grimm chapters? (HA! See what I did there? Oh, I am slayed by myself.) Ok, no, you're totally right, though. Nothing like a little witch-on-dwarf sex to say: This will be fun later.
.
Speaking of writing the book that you have, there are those (ok, me) who might say that writing a book that could potentially be mistaken for a children's book but that also contains gang-rape, incest, unconsensual abortions and hot bear sex requires brass balls. Do you, in fact, have brass balls? By which I mean, in real life are you a rabble-rouser?
.
People are constantly getting children's and YA books mixed up; in this case, journalists are using that confusion to whip up controversy. Anyone who reads the first page of Tender Morsels and still thinks it's a children's book is just being perverse. So, no, I didn't think it would be misinterpreted as badly as it has been. I thought (and I still think) that the general public has more brains than the papers are giving them credit for. And I'll continue to believe that behind all this noise, millions of parents are bothering to do the basic work of keeping an eye on their children's reading - not so that they can snatch TM out of their 13yo's hands as soon as they see it, but so that they keep in touch with the directions in which their children's interest is moving.
.
That said, yes, I do have brass balls. Sorry, no I haven't - I just wanted to see what it felt like to say that. (And it felt good. But then it made me laugh.) No, I'm, like, this nice, friendly lady with silver hair, nothing Gothic about me at all. As Walter Mayes once said to me, 'I knew you would be charming. She saves all her darkness for her writing!' And I save all my brass-ballery for it, too. The most I emit in real life is a quiet snark here and there.
.
Silver hair? OH MY GOD are you old!??! But you BLOG!

Actually, this seems as good a time as any to comment on your blog. You (obviously) keep tabs on where you're being discussed, and as Nymeth said, it doesn't look like you think that book bloggers will be the Death of Literacy. How has the bloggonets affected you as a writer, both in terms of your own blog and the bookbloggowebs?
.
I don't know that blogging, or reading blogs, actually has affected me as a writer, any more than the general water-cooler-type conversation that is always going on around writing (in newspapers, at conferences, among friends etc.) has. I mean, it's all interesting, and it's grand to get some instant feedback (but not too much; I think it would be exhausting to be one of those writers whose every blog generates 120 comments), and wonderful that everyone's so busily sharing and reviewing the books they read. But in terms of feedback into the writing itself, nah. That's a separate thing; when I sit down to write a story, the story's the thing,not the audience, and bloggers and blog-readers are as much a part of the audience that I dismiss from my mind as is everyone else.
.
The Internet has certainly made it easier for writers to participate in some sort of social life, and a form that a lot of us feel more comfortable about (i.e. in writing, not speaking things aloud!), and that can only be a good thing, that we don't disappear quite so quickly up our own fundaments in social situations. Or at least, we find people who are just as interested in that kind of disappearance as we are.
.
And with that, she herself disappeared into thin air! Or, you know, Chicago.
Thanks again Margo!