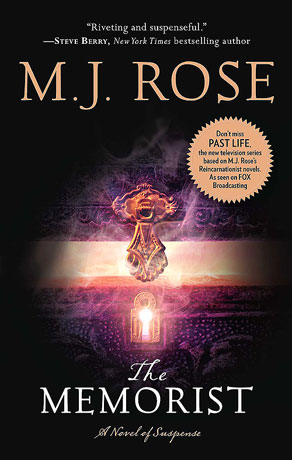 Ok, what with
this thing that happened to Trish
plus all the insightful conversations floating around the blogosphere about the honesty we owe our readers and the gentleness we owe authors as fellow human beings, I'm going to try a new trick over here at the 'done read.' Are you ready? *deep breath* I didn't like
The Memorist
but everybody else seems to have, and you probably will too.
Since M J Rose seems like a level-headed person who won't
threaten to sue me
or
call me nasty names
for my opinion, I'm going to go ahead and admit that it was her writing that killed the story for me. Because the story! So exciting! There's this flute that can bring back memories of your past lives (because reincarnation is
real
, y'all!) and there's this gal who's been having flashbacks to a previous life since she was a wee one and maybe the flute can save her and there's this guy whose son is trapped in some sort of past-life-mantra-loop and maybe the flute can save him and there's this other guy whose wife and children were exploded and who is now hell-bent on exploding a concert hall full of Important People (which sounds irrelevant, and kind of is, but totally jibes with the rest of the hoo-hah) and there are Bad People who want to find the flute too, but first there is a great deal of clue-unlocking and ancient-manuscript-discovering and flashes-of-insight-during-power-outtages-occuring. Two scoops of action in every page!
But! There were a handful of stupid nitpicks that bothered me and will probably only bother me but how they bothered! Like the word 'except' when not followed by the word 'that.' Sentences like 'Except his head felt like it was exploding' and 'Except he couldn't give up now,' besides being about one-to-a-page, would be improved by a healthy 'that.' IN MY OPINION!
And then everyone's reactions are a little TOO extreme, and there's the odd grammatical error ('I'm going downstairs and get more candles'? Come now, editors. Where were you on that one?) and the occasional 'He'd never seen her before but he felt as if he'd never not seen her' (bawhaaaa?) and I know! Who am I? What have I written? M J, you are one (well, two, with one on the way) up on me.
So! My blog, my reviews, I didn't enjoy The Memorist. But! While there are plenty of books out there that are a complete waste of your time and I see trashing them as a way of throwing myself in front of the bullet for you, as it were, The Memorist isn't one of them. So read on, friends. You will probably enjoy.
Five caterpillars.